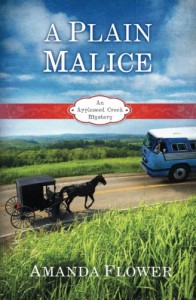 A tour bus from Mississippi goes to the Troyer's farm so see how the Amish live. As Simon Troyer is showing how to milk a cow, two of the tourists drop dead. Now the police and the Ohio Department of Health are all over the Troyer farm. Chloe is called in by Chief Rose to take the place of the deceased tour guide so she can keep the tourists in Knox County to complete her investigation. With the chief's blessings, Chloe investigates and lets the chief know the results of her investigation.
I loved this book. I liked that the Chief could work with Chloe. I also liked how things are changing within the Troyer family. I love Grandfather Zook. He is not the staid buttoned-down Amish grandfather. He has a sense of humor that comes out and gets the family through some of the traumas that have befallen them and their community. He and Chloe are great together. I love Timothy and how he has to walk a fine line between his Amish upbringing and what Chloe wants, needs, and expects. He does not always succeed but he and she work it out. Some of the secondary tourists were a riot, especially Gertie and her fish jerky.
The story was good and I had a hard time putting it down. I did not figure out the murderer until the end. Sad!
I hope this is not the last book of the series. I love these characters.